SCHEDULE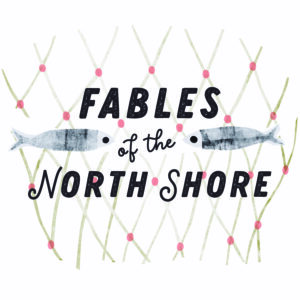 Fables of the North Shore! It's here!  This is  a collaboration in friendship with artist Jordan Sundberg of Tin Cup Design. The show opens July 9th, 2022, at Fika Coffee in Lutsen, Minnesota, and runs through September 24th. We'll be having a closing party, too – on the 24th, complete with puppet shows! You don't want to miss this party. Stay tuned over on our Instagram pages: @tuliptea and @tincupdesign. You can get more details over on my blog.
I'm pleased to be showing Interstice: (noun) a small intervening space at Finlandia University Gallery in Hancock, Michigan. Join me for the closing reception on Thursday, February 3rd. More information here. 
I've also posted a few more details and a link to the recorded Zoom opening over on my blog. The zoom opens with introductions and readings of the artist statement, then at 17:45 there is a 10 minute slide show of the new work and haiku. After the slide show is a time of Q and A. It was a wonderful opening. Thank you to everyone who participated. A true gift to me!
July + August 2021
I will be having a (mostly) small works encaustic show this summer at Fika Coffee in Lutsen, Minnesota. What an honor for me as Fika is a business that embodies a truly beautiful ethic in all they do. Stop by if you're traveling our inimitable North Shore and delight yourself in a true blue roasting experience – full of heart and soul. // To view select paintings and to read more about the show over at my blog, click here.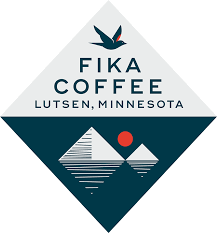 ---
December/January 2021-22
Finlandia University, Hancock Michigan
---
 July 2022
International Jacques Ellul Society 2022 Conference
Montreal, Quebec
---
2019
Gallery 212 – CIVA | RELIT
Opening Reception : October 4th, 2019 |  5-9 pm
Join me and artist Maria Amalia Wood at the CIVA Gallery Space for Madison's Gallery Night, sponsored by MMCA – Madison Museum of Contemporary Art.
For more information https://civa.org/events/gallery-212/re-lit/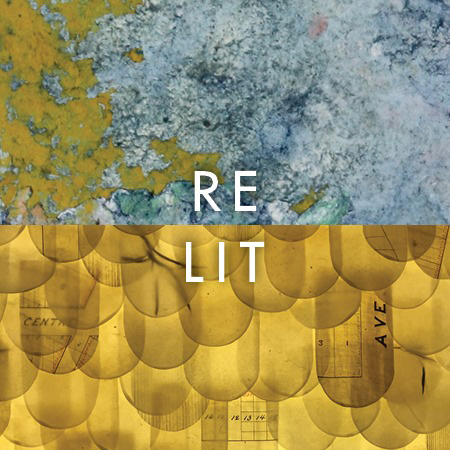 ---
Lizzards Art Gallery & Framing | Mono No Aware
August 8 – September 28, 2019
4-7 pm
Lizzards Art Gallery and Framing
Mono no aware is the Japanese term for the wistful awareness of impermanence. At the passing of all things, a gentle grief may be present, but the accompanying wistfulness is what heightens the appreciation for what is beautiful, even if transient. In this new body of encaustic work by Natalie Salminen Rude, the sense of mono no aware is present in these poignant images of the natural world. They are moments composed. In pairing down the imagery to their essence, Salminen Rude composes visual haiku with each painting – distilling the ephemeral essence within the landscapes and botanic compositions with color, line and empathy. Landscapes familiar to our northern region resonate with season, horizon lines, moments of dusk, patterns in light, tree and pond edge. Mono no aware travels further into Salminen Rude's resonance with the Japanese aesthetic, as she continues to find it deeply harmonic to her sense of the world.
---
STRATA | Group Sculpture Show
June 4 – August 11, 2019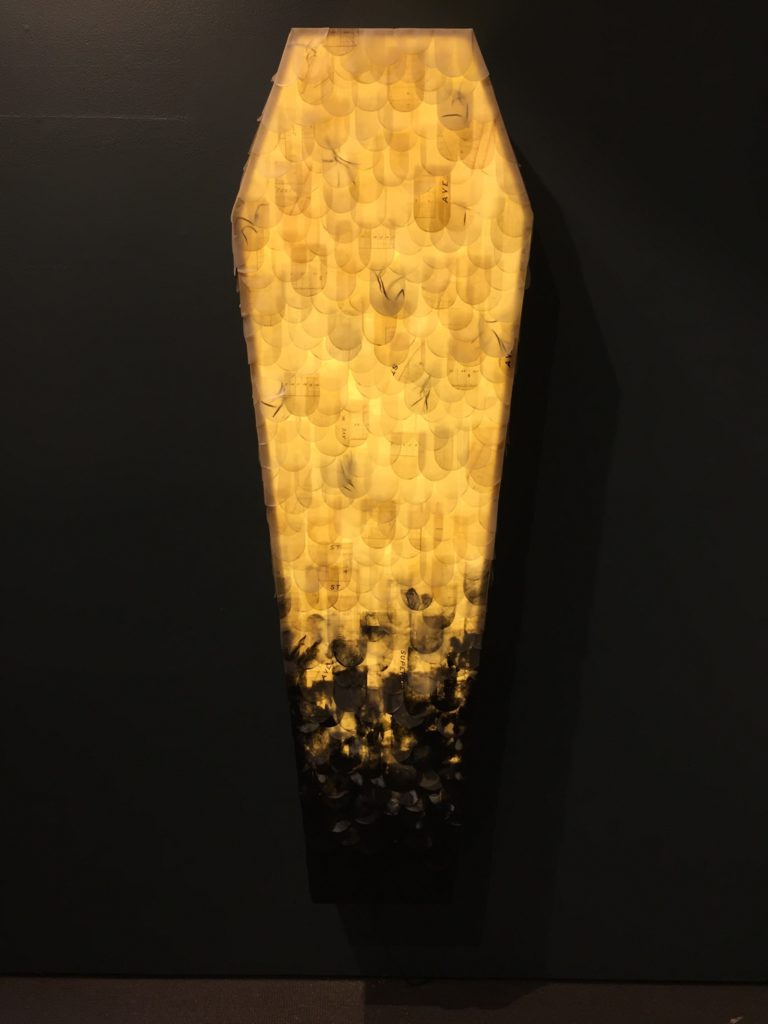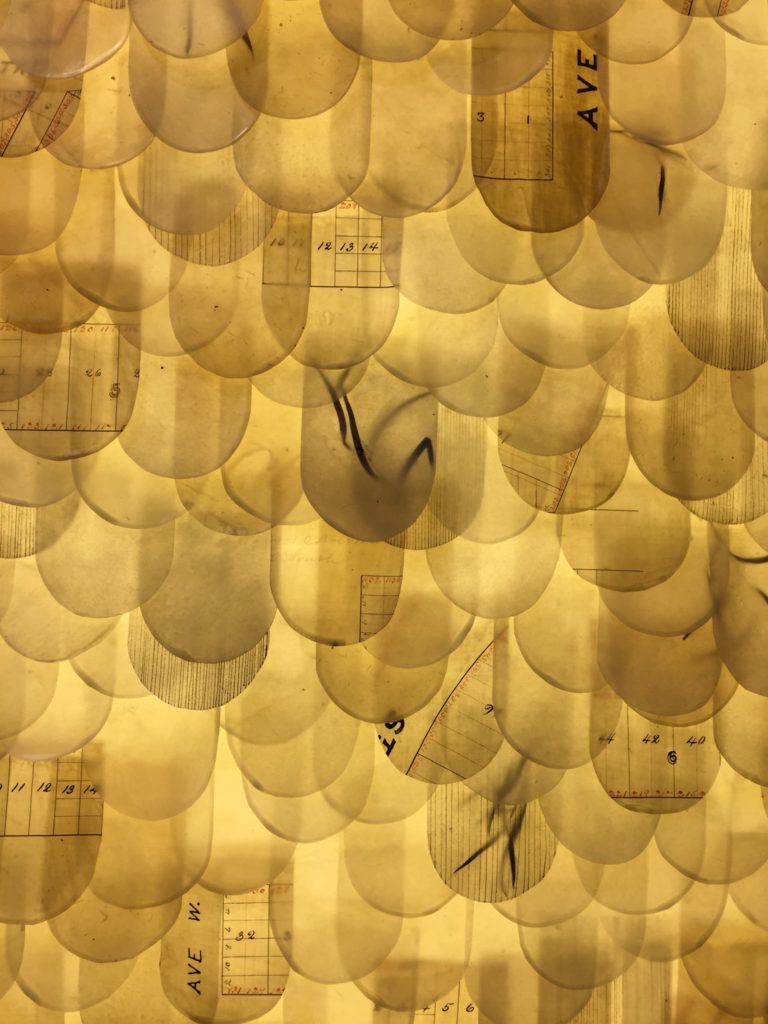 Looking forward to engaging in more ,conversation with all who come out to the opening of Strata – where I'll be discussing Technology as Conquistador – the sentiment and art statement behind my new encaustic sculptural work that incorporates hand-drawn plat maps of Duluth (now artifacts). Seeing as how our cultural value system now seems to honor efficiency as our most valued currency, hand drawing has essentially been deemed savage. Historically whatever has been deemed savage has been conquered, and more often than not, destroyed. Where else can we see this happening? Thoughts?
---
Excited to announce our collaboration with One Million Thumbprints for The Commissions Project!
Painting Reveal
June 6, 2019
6-10pm
Minneapolis
I'll be sharing many details about the painting, #thecommissionsproject, One Million Thumbprints, facts and figures about women in war zones, and how we can advocate for them best – by employing empathy. Follow along the first week of June on Instagram @tuliptea!
---
Kruk Gallery | Alumni Show
UWS | 125 years
June 11th, 2019
5-8pm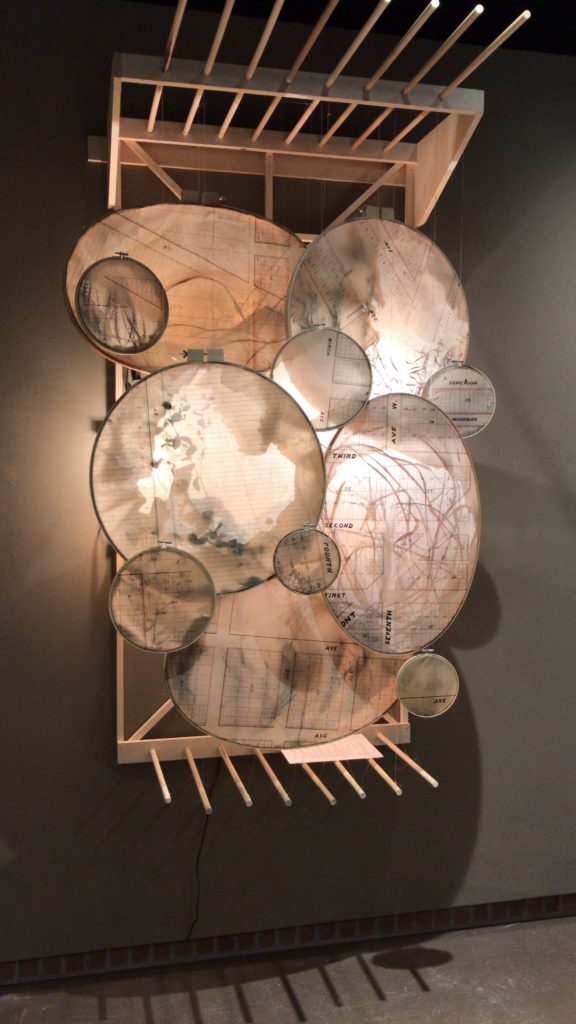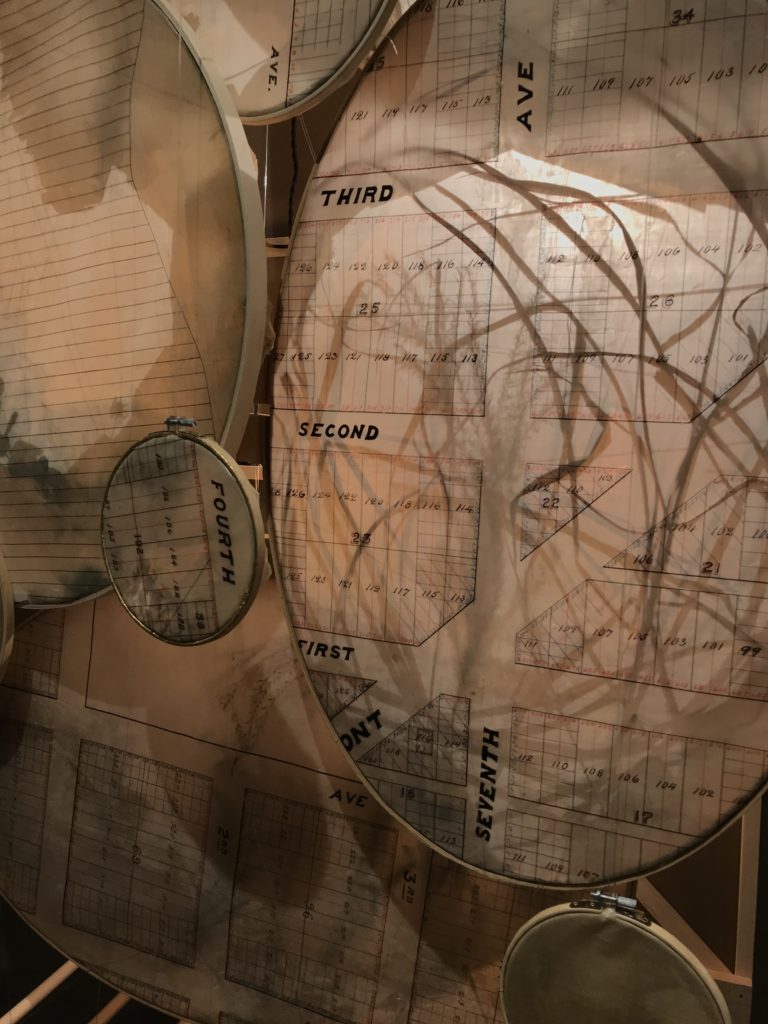 ---
NEW WORK – Explorations in Encaustic and Oil
You are cordially invited to the opening reception:
Thursday, August 8th, 2019
4-7pm
---
ONGOING EVENTS
Haiku Conversations
3rd Wednesdays of the month
7-9
Studio Haiku
$5
haiku
the art of five – seven – five
a practice you'll love
Join us for communal conversation on the wonderful art of haiku poetry. We begin our gatherings by discussing a facet of haiku or perhaps a prompt that we'll use for composing haiku. Time is then allowed for processing and writing. We conclude the evening by gathering back together to share what we've written and experienced. It's a fun and informal way to gather together and celebrate poetry! We would love to have you join us. RSVP's very much appreciated. Light refreshments provided. Space is limited.
---
Ladies Drawing Night
2nd Wednesday's of the month
7-9
Studio Haiku
$5
Hosted by the illustrator imitable Jordan Sundberg of Tin Cup Designs, we gather in the name of communal drawing to sharpen our skills. It's too fun. Join us! Bring your own supplies and a desire to improve your drawing game. That's it.
---
Past Events
Saturday, May 18th
Art-A-Whirl 
Studio Haiku will be in NE Minneapolis for Art-a-Whirl again this year on Saturday, May 18th at Popol Vuh & Centro. You'll find us outside in a more than festive situation! Come by and say hi. I will have new encaustic paintings, prints, note cards and haiku poetry as well as freshly designed paddles from Glorud Design. Centro will be taking care of our guests by offering delicious food and drinks (think Mexico!). Last year was an absolute blast and we can't wait to see our southern friends once again this year at the largest art crawl in the nation! Proud to be a Minnesota arts advocate! We'll see you soon.
---
2017/2018
After a year of renovations and preparations, I am happy to invite you to visit me in my new studio this year, studio Haiku, in Duluth, Minnesota, as I work on new projects and exhibits. Dreaming this studio into being has been a labor of love. So many exciting things coming up!
I've got two Commissions Projects that will be completed the spring of 2018 that are very near and dear to my heart. More on both of them – soon! Think Boundary Waters Canoe Area Wilderness and the amazing work of an organization that is breathing new life into so many during into these trying times.
Baja, Mexico! I'm off to Mexico to paint again this March. Look for inspiring photos via Instagram and desert-sun beauty in encaustic. This travel fuels my spirit to keep making, and fills my wonder-cup to the brim. I've been hired again by an art firm to create work for another new luxury residence in Chileno Bay. Very grateful for this opportunity and the chance to catch a few waves. (#alwaysabeginner)
Grand Opening: Studio Haiku will celebrate soon.  Sign up for our newsletter (I'm trying to make it more than just an annual one!) and we'll send out the date…thinking June 2018!
Visit instagram/studiohaiku.design to see what's new in our new showroom. Beautiful artwork, hand-crafted furniture, poetry and installations. You are just going to love this space 🙂
And many haiku prints are available! Printed as 5×7 on heavy, textured paper, they are small treasure of images and words arranged. Dreaming of a book…would that interest you? To see more visit: instagram/tuliptea
---
2016
HOLIDAY
POP-UPS
RED HERRING LOUNGE
DULUTH VINEYARD
---
Intermediate Encaustic Workshop March 12 + 13, 2016
Intermediate Encaustic
Natalie Salminen Rude
Saturday and Sunday, March 12 & 13, 2016
9am-4pm
$250 ($300 non-members) + $45 supply fee paid to instructor
Lincoln Center for Arts Education – Duluth, Minnesota
Explore techniques beyond the basics of encaustic, while refining previous encaustic knowledge. Morning demos include building texture, exploring gold leaf, and continued use of the torch and mixed media collage. Afternoons reserved for developing your own work. Intermediate level. Space is limited. Register here.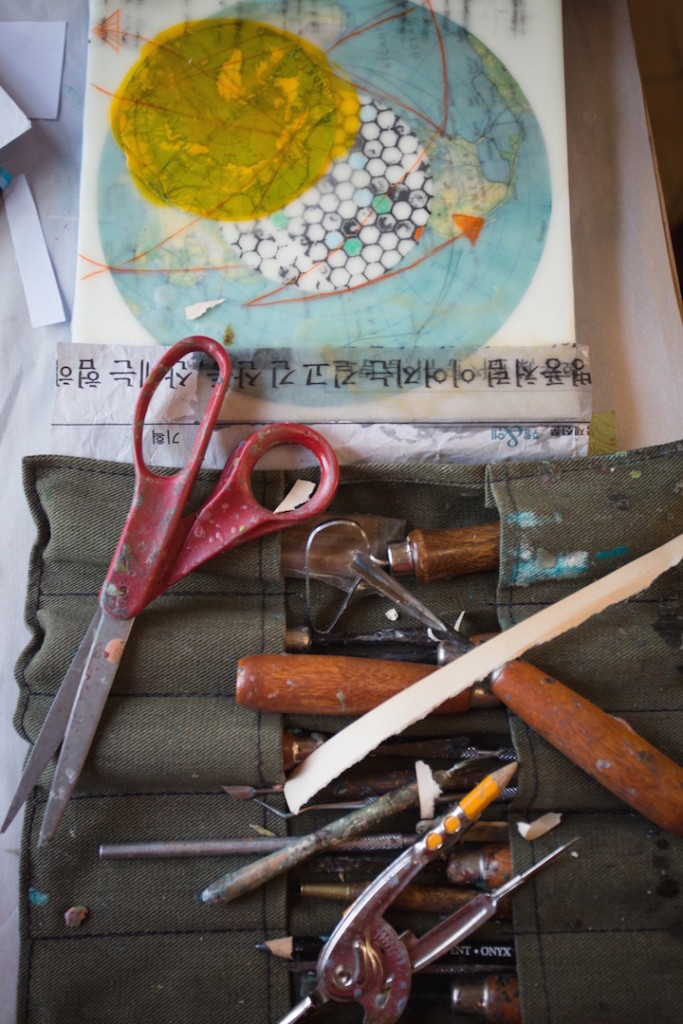 ---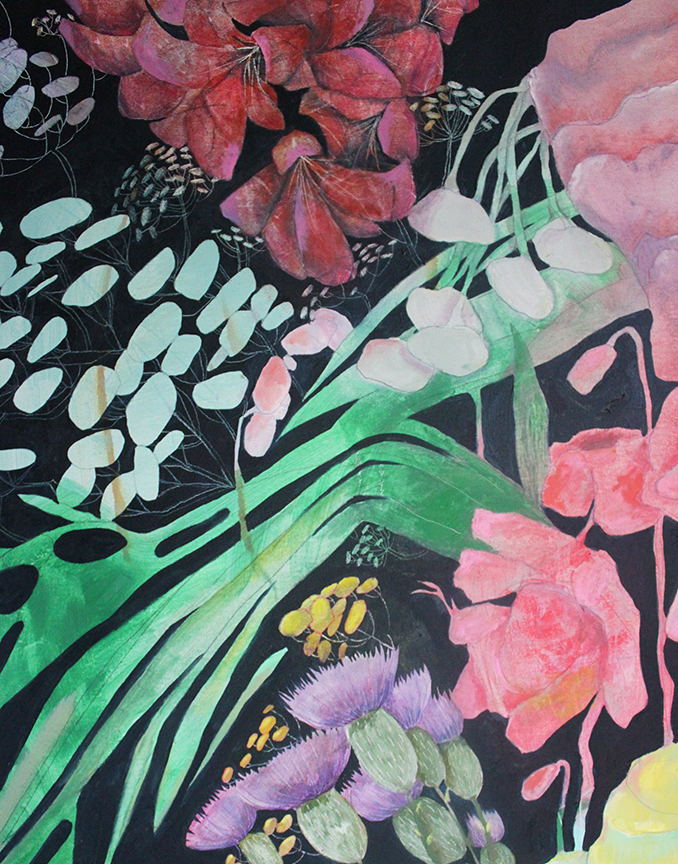 KRUK GALLERY
University Wisconsin – Superior
Department of Visual Arts
October 5-30, 2015
Opening Reception: October 8th, 5:00-7:00pm
I'm pleased to announce I'll be showing new work at the Kruk Gallery this October. As an alumna of UWS, I'm very excited and find it a great privilege to be showing work where my art education formally began. Celebrate this coming-full-circle moment with myself and with painter Adam McCauley, UWS alum and Duluth resident, who will also be showing current work.
The show will exhibit my first body of work since returning to Minnesota in 2014.
---
ENCAUSTIC WORKSHOP
INTERMIDATE EXPLORATIONS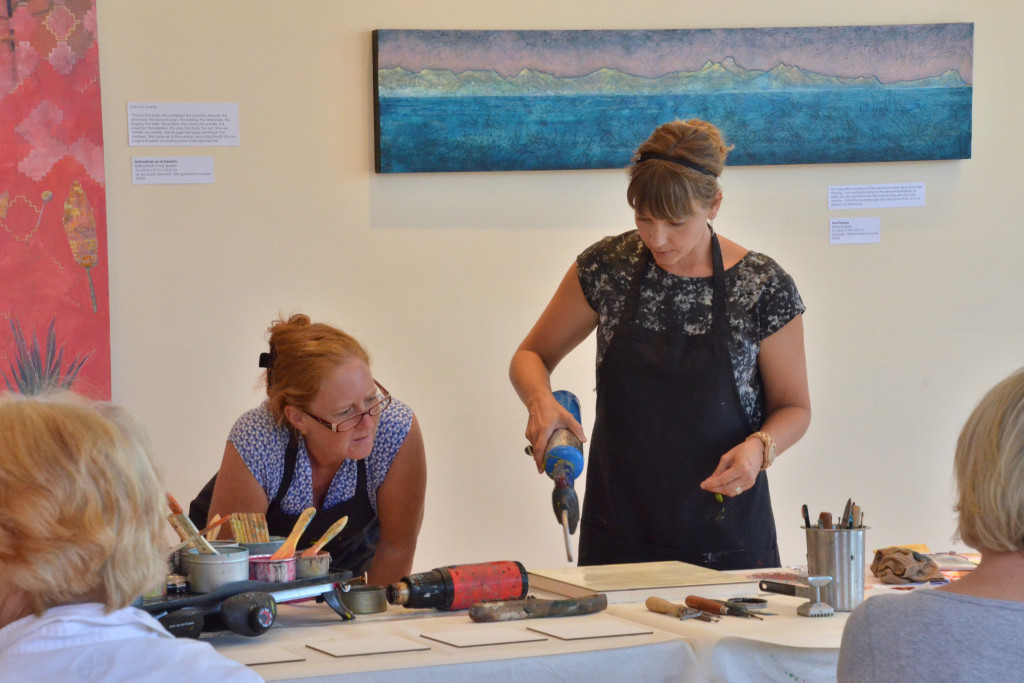 THE ART OF ENCAUSTIC
Natalie Salminen Rude
Saturday & Sunday, October 17 + 18, 2015
9am – 4pm
$280 ($320 non-members) + $45 supply fee paid to instructor
Encaustic is an ancient medium consisting of beeswax, resin and pigment. Working in layers, heat is used to fuse each layer together onto a rigid surface, creating a unique and luminous surface. Learn about the essentials in this very unique introductory workshop; the history of the medium, fundamental techniques and mixed media additions. Space is limited.
In this intermediate class, students will dive further into the medium by exploring texture, mixed media additions, gold leaf and more. Students will also be given open studio time.
Click to register –> Classes for Adults via the Duluth Art Institute.
---
SaveSave
SaveSave
SaveSave