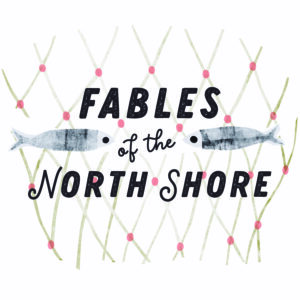 Fables of the North Shore – a collaboration with artist Jordan Sundberg of Tin Cup Design, opens July 9th, 2022 at Fika Coffee in Lutsen, Minnesota, and runs through September 24th. We'll be having a closing party, too – on the 24th, complete with puppet shows! You don't want to miss this party 🙂 Stay tuned over on our Instagram pages: @tuliptea and @tincupdesign. We created 36 pieces of art for this show. It's a multi-disciplinary feast for the eyes and heart. So much DELIGHT to be had!
Here's what Jordan had to say in a recent IG post: "Natalie and I have written five original fables woven with nostalgic, beloved, silly, wise and favorite Lake Superior North Shore elements and characters – and created oodles of art to go with them. You'll smile! You'll chuckle! You'll relate! You'll be inspired! You'll remember you should always have a canoe paddle on hand!
One fable in particular, will remind you of the guaranteed refreshment of a dip in the big lake (but don't forget to tie your drawstring tight!!) You'll meet Grandma Ray and her wise and generous ways. You'll stop feeling silly skiing in jeans! The art you see here are all little snippets from those stories and more. Natalie and I will be at Fika Coffee on Saturday, July 9th from 10-2 to hug you, say hi and celebrate our shore and the gift of getting to make art as a community for our community. We would love to see you!"
From our artist statement:
Fables of the North Shore is a multidisciplinary and collaborative storytelling project based on the North Shore region of Lake Superior. Drawing on mythological and folkloric frameworks, Fables of the North Shore aims to bring our community together around the campfire of local, shared stories and exaggerated tales through a plethora of artistic mediums, including collage, digital illustration, encaustic, mixed media paintings and dimensional figurines.
These are tales of delight and whimsy, mischievousness and wisdom that are bringing us  JOY –  at a time when we could all use a little extra light for what feels like dark times. May these stories and the accompanying artwork gift you in unexpected ways.